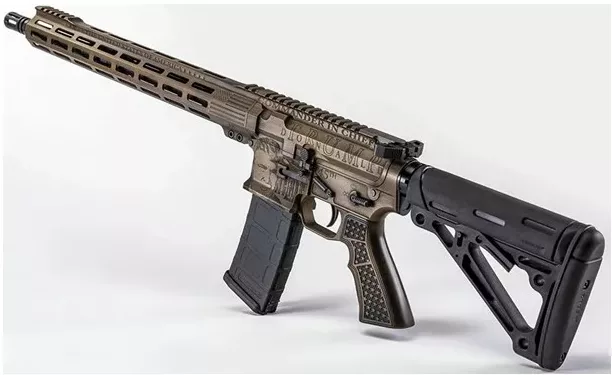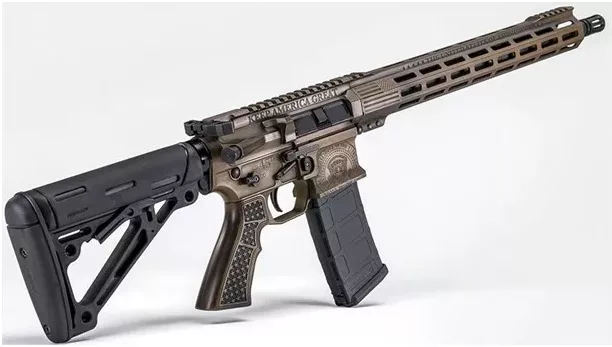 Auto Ordnance Custom Trump AR Rifle 5.56mm 30rd Magazine 16″ Barrel Bronze and Black Cerakote
This elaborately finished and engraved rifle honors the patriotism of the 45th President, and his determination to "Keep America Great". This motto is engraved on the right side of the upper receiver, and "The United States of America" on the aluminum free floated, M-Lok forearm. The left side of the upper receiver is engraved with President Trump's name and title, "Commander in Chief" of the Armed Forces. The lower receiver has beautiful relief cuts, along with "45th" noting his position in our nation's long line of presidents. The American flag, and a star pattern are detailed on the grip and forearm. The president's likeness in front of the White House adorn the left magazine well, with the Presidential Seal on the right. "In God We Trust" is placed on the forward assist housing.
Each Commander in Chief AR15 is built on billet aluminum upper and lower receivers. The pistol grip and stock are by Hogue. The finish is Burnt Bronze and Black Cerakote. The rifle barrel is 16", 1 in 8 twist, nitride coated, and chambered in 5.56. One 30 round Magpul P-Mag is included.
$2409 less 10% if purchased by 8/31